Spark AES CRMs
With more then 70 years of experience, Arconic sets the standard when it comes to certified refernce materials for the analysis of Aluminum Alloys by Spark Atomic Emission Spectroscopy (Spark-AES). From specialty and registered alloys to setup standards and trace level composition, Arconic offers over 370 catalog alloys to meet your analysis needs.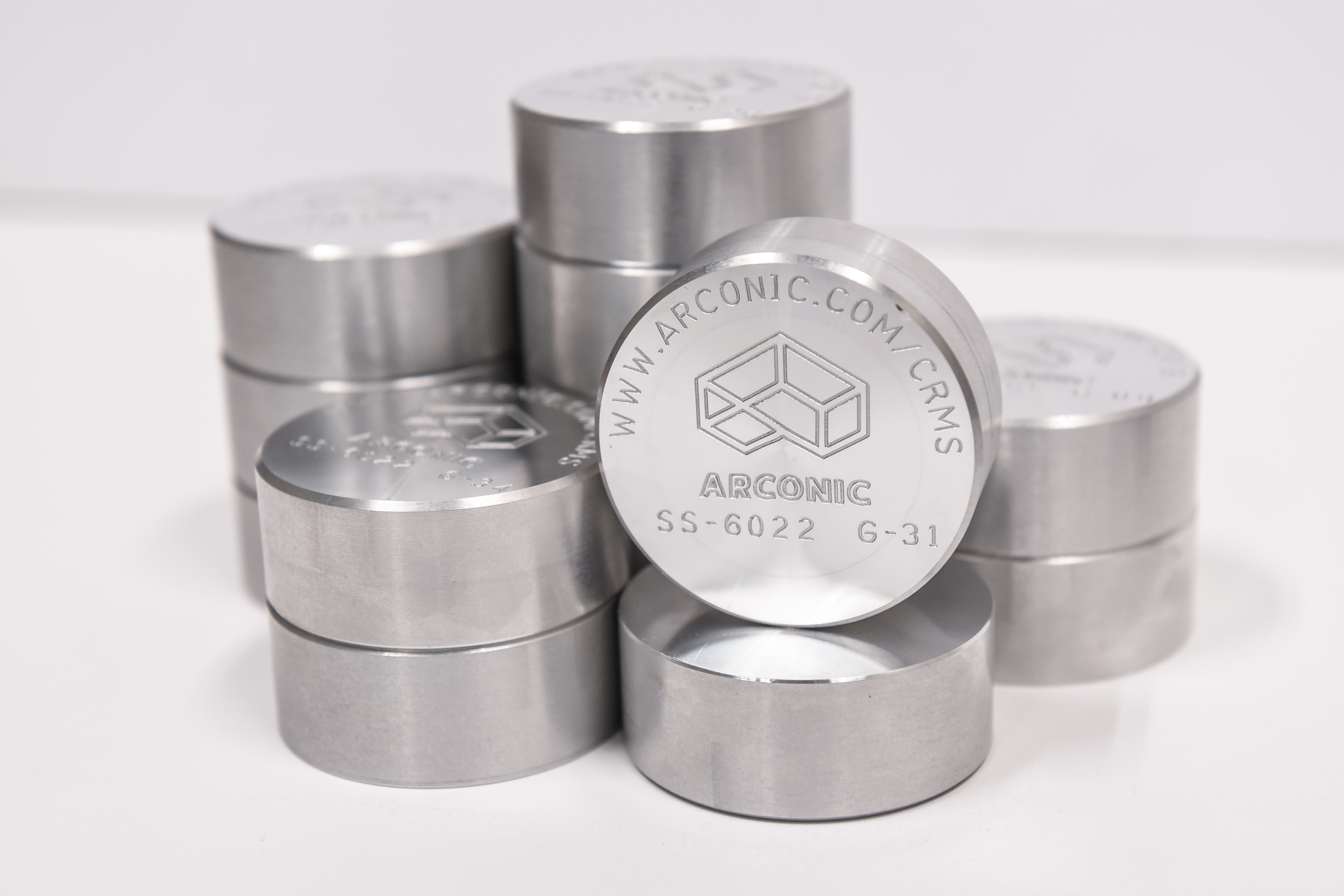 Wrought and Casting CRMs
Arconic produces CRMs for a wide assortment of wrought and casting alloys registered by the Aluminum Association. CRMs identified with the 'SS' prefix followed by the alloy designation denote the CRM that most closely matches the nominal (mid-point) registered composition. CRMs identified with the 'WA' through 'WZ' prefixes are range CRMs for wrought alloys. CRMs identified with the 'KA' through 'KZ' prefixes are range CRMs for casting alloys. These are typically used for establishing calibration curves by bracketing the composition range of one or more elements in the alloy of interest.
Trace Metal CRMs
Arconic Trace Metal CRMs supplement our regular alloy CRMs and are identified with the 'ST' prefix. A unique method for trace metal additions allows alloys to be produced with highly controlled trace metal concentrations. Trace metal concentrations have been picked to provide both low end calibration points (<0.0001%) and points that are typical for trace metal content that can be measured with good precision and accuracy by today's instrumentation. Actual concentrations may vary from those shown in the our catalog, but will always be certified using a combination of analytical techniques including Spark-AES, ICP-AES, GD-MS, and other appropriate techniques.
Binary/Single Element CRMs
Arconic produces binary/single element CRMs with varied levels of individual elements in unalloyed aluminum and various alloy matrices such as high silicon. The single element CRMs are available in a series for each element with various concentrations. They are useful when extending existing calibration curves as well as making adjustments to curves when alloy specific SS CRMs are not adequate. Single element CRMs are designated with a two-letter identifier that corresponds with the chemical abbreviation for the element added.
Drift Correction (SQ) RMs
SQ RMs are used for ongoing drift correction. These 'SQ' RMs do not correspond to any particular alloy matrix, and their structures may not match that of chill cast disks. Their recommended use is to provide reproducible spectral intensities for drift correction and their relationship to analytical curves must be determined by the user under the particular conditions of use. The compositions are designed to provide convenient reference points for a large number of analytical curves with a minimum number of RM's. The RMs are checked carefully for reproducibility of spectral response but are not certified with respect to true composition. Only approximate values are issued with these RMs. As with all RMs used specifically for drift correction, a specific procedure defined by the spectrometer vendor must be followed when replacement SQ RMs are put into service to establish the correct relationship to previously defined analytical curves. Failure to follow the correct replacement practice may compromise analysis accuracy.

Specialty CRMs
Every effort is made to supply our customers with a wide variety of alloy CRMs. However, in order to serve our customers' needs, CRMs can be made to customer specifications and target compositions. These specialty CRMs are made to the same exacting quality as our catalog CRMs. Experts in the production and use of Arconic Spectrochemical CRMs are available to discuss specialty CRMs.

Minimum order quantities are required.
MicrO CRMs
MicrO CRMs are a portable version of the same high-quality certified reference materials that Arconic produces and sells globally. MicrO CRMs are NIST traceable, certified for up to 28 elements and smaller in size allowing them to be taken directly into the field for added confidence in your analysis. MicrO CRMs are intended for use with XRF lab instruments and XRF/LIBS handheld alloy sorters.

Alloys available as MicrO CRMs:
Casting Alloys
356
380
383
390
Wrought Alloys
1100
2052
6063
2024
5182
7050
2055
6022
7075
3004
6061
Enables enhanced sorting of similar alloys, like, 6061 and 6063
Improves alloy identification accuracy with possible calibration, type standardization, and/or drift correction
Easily validates instrument operation
Product Dimensions
MicrO CRMs are approximately 25.4 mm (1 inch) in diameter by 6.4 mm (0.25 inch) in thickness. No surface preparation is necessary for analysis with either XRF or LIBS instrumentation as long as the surface of the CRM is not damaged.
Alu-H2 Hydrogen RM
Arconic's solution for monitoring hydrogen levels in aluminum.
Bulk hydrogen content in aluminum alloys impacts several critical properties including ductility, tensile strength and porosity. Arconic is setting a new standard, Alu-H2™, that will help you accurately measure the amount of hydrogen in your metal. Alu-H2™ contains well-characterized hydrogen content determined according to ASTM E2792 by multiple laboratories.
With Alu-H2™ you can:
Demonstrate the real hydrogen analysis capability at levels of interest to the aluminum industry.
Analyze Alu-H2™ using the same operating conditions as used for analysis of production samples.
Differentiate surface from bulk hydrogen content.
Monitor the entire analysis process used for hydrogen in aluminum.
Alu-H2™ is supplied as ~24.5" x ~0.5" (~58 cm x ~1.3 cm) or ~71.5" x ~0.5" (~182 cm x ~1.3 cm) rod and requires preparation in accordance with ASTM E2792 prior to use. Other lengths may be available upon request.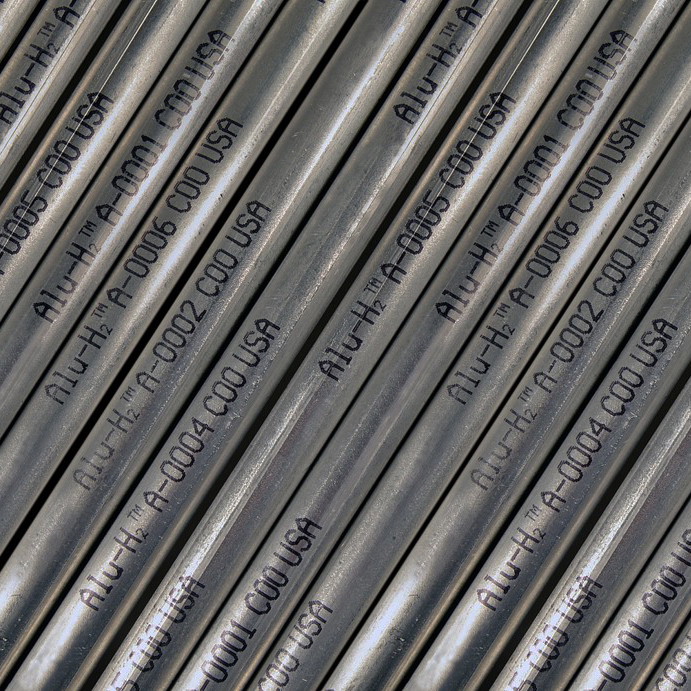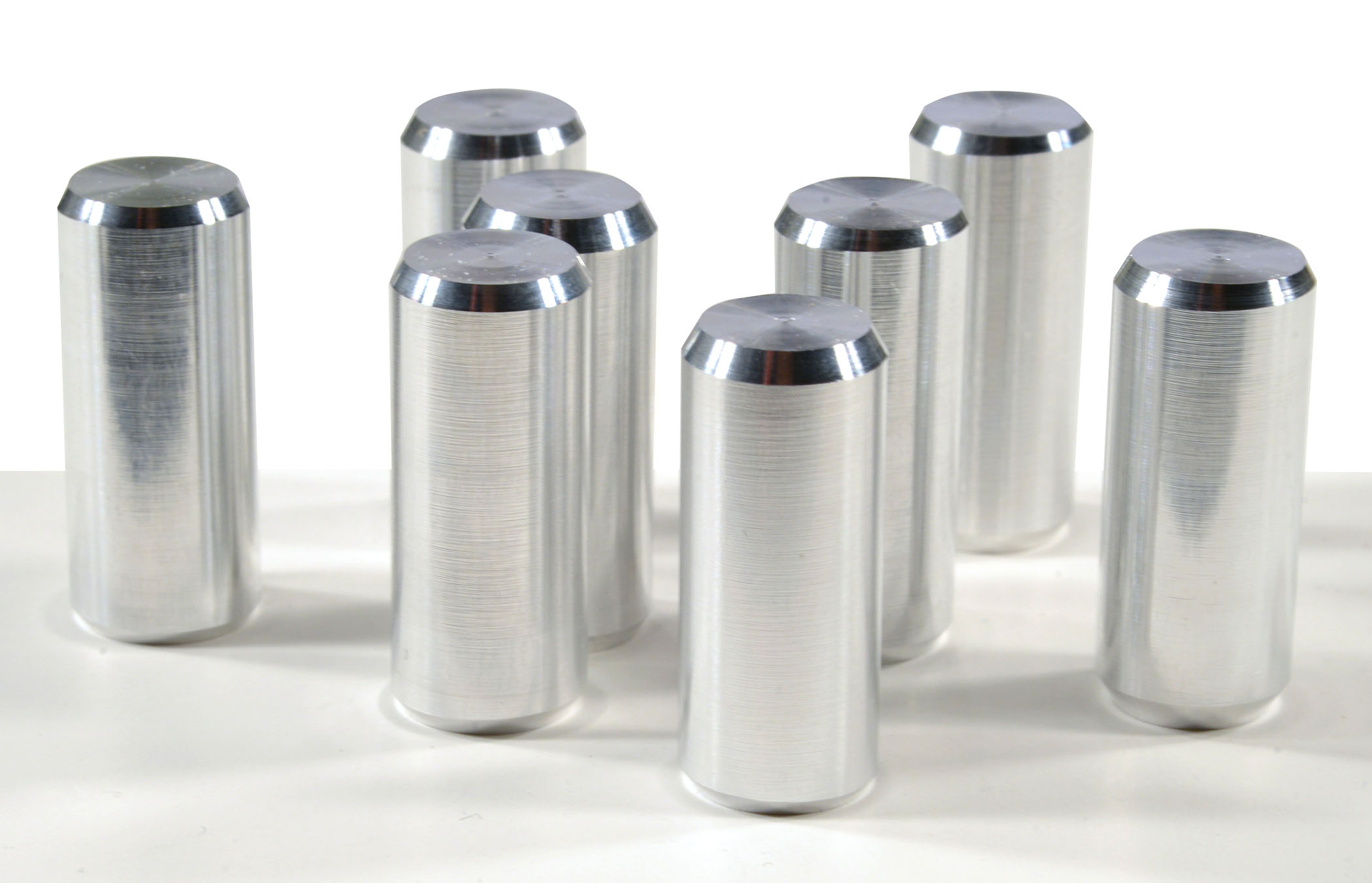 CRMs for Chemical Analysis
Arconic recognizes the need to supply its CRMs in a form more suitable for use with techniques such as ICP-AES, ICP-MS, GD-AES, GD-MS and XRF. All CRMs are available as lathe turnings (~100 g quantity) for techniques that require dissolution.